2014 NBA All-star Game: Who's In?

With the NBA All-star Game on the horizon, even NBA fans are wondering, Who Is Going to Play?
Years (and years and years) ago, the NBA All-star game was a chance to get to see star professional basketball athletes shine, while they took the court in a light-hearted attempt to provide a favorable look at the organization as a whole.
Let's face it, the NBA has seen its troubles, with a lockout as recent as 2011 lasting five months, and players simply feeling as if they are bigger than the game, the fans and the financial commitment they agreed to (we're looking at you Dwight Howard).
Coaches are getting fired left and right, as players openly discuss their disdain for their methods in the media, and with injuries to star players like the Chicago Bulls Derek Rose – who sat out most of last season – Kobe Bryant and Chris Paul, fans have to be wondering who is actually going to play in the February 16th matchup in New Orleans.
With highlights like the slam dunk contest, skills challenge and three point shootout, there is plenty to keep the casual observer tuning in. And the fact that it is in the always fun-filled city of New Orleans may even add to the physical attendance.
The roster has not been set yet, but there are the usual predictions that come into the fold this time of year with the usual suspects like Lebron James and Carmello Anthony making the roll call. So far, the big news of this NBA mainstay, and often questionable continuance of futility, is the new jerseys. The fact that they have sleeves should keep every NBA analyst on the planet busy for the next couple of days, expressing why or why not it works for the players.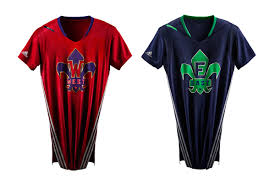 "2014 NBA All-star Game: Who's In?" User Comments
No comments posted yet.