Major League Baseball Hall of Fame 2014 Inductees
The MLB Hall of Fame Inductees were announced on January 8, 2014 with Craig Biggio missing the cut by two votes.
This week brought a new set of Major League Baseball players into the Hall of Fame in Cooperstown, New York and a couple of amazing pitchers kicked off the ceremony.
Greg Maddux kicked things off as one of only two pitchers to win the prestigious Cy Young award four years in a row. Randy Johnson was the other, and is set for entering the same enshrinement in 2015. As the only pitcher to win at least 15 games in 17 straight seasons, and 18 Gold Gloves, voting him in on the first ballot was a no brainer for the panelists. With a career that spanned from 1986 to 2008, Maddux had his number retired (31) retired with both the Chicago Cubs and the Atlanta Braves. The latter teamed served as his only World Series Championship team in 1995, and no one deserved it more. Except for maybe his teammate who was inducted on the same day...
Tom Glavine was the World Series MVP in 1995, and was second in the highest amount of wins by a National League pitcher, with his teammate Maddux taking the top spot. As a tandem in Atlanta these two aces were unbeatable. Glavine was a five-time, 20 game winner, held two Cy Young awards, and is only one of 24 pitchers in the history of the league to win 300 career games. With a career that spanned from 1987 to 2008,
Glavine's number 47 was retired by the Braves.
Also making his debut in the Hall of Fame in his first year of eligibility, Frank Thomas "The Big Hurt" as he was dubbed, was a lethal weapon in the designated hitter spot. Playing fifteen years with the Chicago White Sox, two non-consecutive seasons with the Oakland A's and two seasons with the Toronto Blue Jays, Thomas swung his way into the hearts of Hall of Fame voters everywhere, taking the coveted spot by storm.
In the wake of the voting fell Craig Biggio, who was two votes shy of taking his place in Cooperstown. Biggio certainly deserves the title of Hall of Famer, and hopefully next year he will reach the 75% (he had 74.8%) voting, as his career 3060 hits makes him one of a small amount of players with more than 3000 that are not carrying the title.
Next year will see names like Randy Johnson, Pedro Martinez and Garry Sheffield as first time ballot players, and hopefully Biggio will join them with an entrance.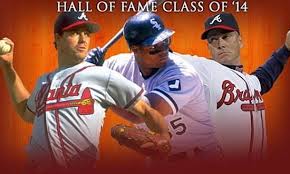 "Major League Baseball Hall of Fame 2014 Inductees" User Comments
No comments posted yet.