Living Up to the Prestige of Madison Square Garden

Madison Square Garden was built in 1968, and since has hosted sporting events that have simply wanted to live up to its grandeur as the World's Most Famous Arena
"The World's Most Famous Arena" as it is labeled by anyone who has had the luxury of visiting the old girl, Madison Square Garden is celebrating her 45th birthday in style – complete with a billion dollar renovation over the past three years.
With concerts playing in regular rotation at the midtown venue, MSG celebrates a host of events in addition to musical guests including heavy weight boxing title fights, and the illustrious Westminster Dog Show. However, even with the guests that come and go, the famous arena serves as home turf for two teams year around. The problem is, are they living up to the arena's grandeur and fame?
As the second oldest NBA arena (Oracle Arena in Oakland is the oldest, dating back to 1966), MSG is home to the New York Knicks, who have had a dismal season to say the least this year. The Knicks have not won a championship since 1973, but continue to have an incredible following in the NBA – with fans who are as devoted to their team as any other New York franchise available to them.
The National Hockey League's New York Rangers also call MSG home, and have not won a Stanley Cup since the 1993-94 season, begging the question: Do the New York teams who play in the World's Most Famous Arena live up to her esteemed existence? The answer to that is probably no. But with the arena's exceptional location – in midtown Manhattan – fans clamor for tickets and cheer on the lowly teams that play within her confines in amazing numbers.
The truth is, whether you are a sports' fan, music lover or simply want to take in one of the greatest venues in the history of structural engineering, you cannot beat Madison Square Garden. The history behind the scenes of the once-controversial site carries the ghosts of sporting event past, and the character of a hardened city that can take on anything that comes her way.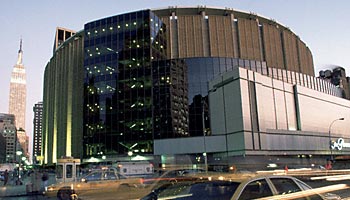 "Living Up to the Prestige of Madison Square Garden" User Comments
No comments posted yet.