Is the Heisman Trophy Still Relevant?

With an esteemed history dating back to 1935, the Heisman Trophy has represented everything that is great in college football. Is that still true?
The Heisman Trophy was first awarded in 1935 by the Downtown Athletic Club in New York City, signifying and trumpeting "The outstanding college football player whose performance best exhibits the pursuit of excellence with integrity. Winners epitomize great ability combined with diligence, perseverance, and hard work."
After many exciting years of college players actually vying for the award with their exceptional play, and creating substantial arguments on the sides of contenders, including Charles Woodson – the only defensive player to win the award to date – matching up with Peyton Manning in 1997, the award seems like a formality these days, instead of an achievement.
With accomplished players lining the winners' list including Roger Staubach, Tony Dorsett and Earl Campbell, not to mention the only two-time winner, Archie Griffin, the award excited fans and created a media frenzy, turning a single weekend in New York City into a once in a lifetime experience.
Marcus Allen, Bo Jackson, Barry Sanders, Desmond Howard and more recently Tim Tebow and Sam Bradford have all exuded the class and commitment to college athletics that allowed NCAA fans to look forward to the announcement each year, and develop an affinity for its existence to remain in the sport. Everyone loves a winner, right?
The problem became that college football players may have been upholding their end of the "outstanding college football player" bargain on the field, but lacked in the integrity department. This became evident when USC's Reggie Bush had to vacate the award in 2005 for receiving gifts from an agent during his college years – a huge NCAA violation.
But it wasn't just the alleged behavior of other players who were vying for, or even winning, the historically important trophy that turned the world off from its interest. The truth is, the media has wrecked it for everyone. They begin talking about Heisman candidates the moment the first college football game is in the books – making it a moot point by the time it actually comes around in December. They no longer let the statistics speak for themselves, but rally and over hype players as if they are bullying the rest of the world to believe their promotion. The Heisman Trophy used to mean something, and in the last decade its allure has been tarnished by not only those who play on the field, but those who call the games in the booth.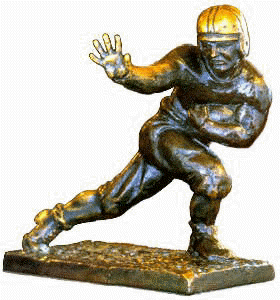 "Is the Heisman Trophy Still Relevant?" User Comments
No comments posted yet.