Cold Weather NFL Super Bowl: Finally!
Who says you cannot have the Super Bowl in a cold weather climate? 2014 marks the return of what was once a NFL mainstay: Football in the elements.
The 2014 NFL Super Bowl is going to be held in East Rutherford, New Jersey at MetLife Stadium; home to both the New York Giants and New York Jets. Although neither one of the home teams stand much of a chance of hosting the opposing franchise who will make it (that team is completely up in the air too...It is a crazy NFL year), the New York/New Jersey region is the first current era city to host a Super Bowl in a cold weather climate – without a roofed stadium. Northern cities have had their hosting privileges, including two in Michigan, one in Minnesota, and one in Indiana, but each of those stadiums has a roof, and a cozy indoor temperature. MetLife Stadium does not, which means exactly what you think it does! The Super Bowl is going to be played outside, in the middle of a New York winter! Yes!
Miami, New Orleans, Tampa Bay and Phoenix have all had multiple hosting opportunities, and why not? It's warm, there is plenty of space for everyone, and they are all fun places to visit! The allure of an outdoor, cold winter weather Super Bowl does not appeal to everyone, especially those who appear for the parties and not the actual game. But for real NFL fans, this is an amazing opportunity to enjoy the sport the way it was meant to be played: Outside in the elements.
New York has a lot to offer, and let's face it nearly everyone who is able will be spending the weekend in a Manhattan hotel, taking in the sleepless city's delights. Who doesn't love New York City? Millions of people converge on the city to gather in Times Square to watch the ball drop on New Year's Eve, so how different can this be? To be sure, NYC is well-equipped to handle the masses. The question is, are the masses – which have enjoyed Miami-like temperatures on previous Super Bowl Sundays – ready for the average temperature of 39 degrees on game day? This is going to be fun! Bundle up, everyone, and enjoy the show!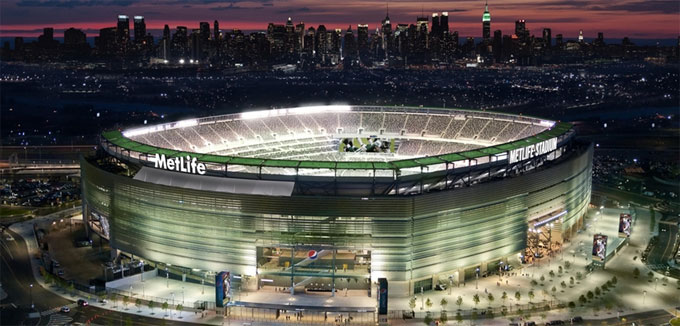 "Cold Weather NFL Super Bowl: Finally!" User Comments
No comments posted yet.